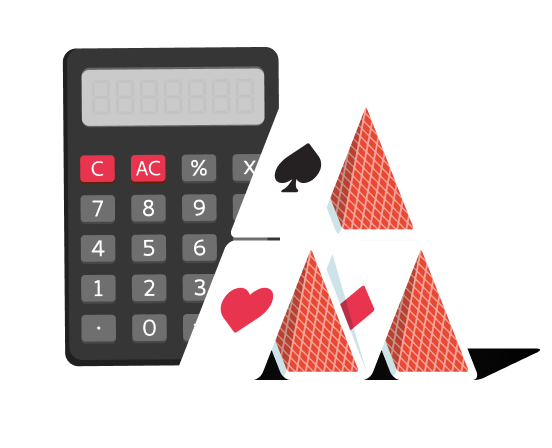 Know Your Odds and Outs
Whether you're a ring game player looking to improve your bottom line, or you're honing a sit 'n' go strategy to increase your tournament ROI, an understanding of pot odds is an important weapon in your arsenal.
Where this usually comes into play is when you believe you are losing to a stronger hand, but will win the pot if a certain card is dealt. Let's say your opponent bets, and you have this common question to consider:
"Should I call, hoping to hit the card which will win me the pot?"
There's actually a fairly simple way to figure out the answer to this question, and while it does involve a small amount of math you certainly don't need to be a genius to do it!
Firstly, you need to count the number of cards that you believe will win you the pot. Let's say that on the turn you have four clubs and need one more to make a flush, otherwise you're confident you'll lose the pot. There are 13 clubs in the deck, of which you have 4, leaving 9 clubs left to hit. These 9 cards are known as your 'outs'.
Next, work out the number of unseen cards left in the deck. In a game of Hold'em, on the turn, you can see 6 cards (your two hole cards plus the four community cards), leaving 46 cards in the deck that are unseen.
Of these 46 cards 9 are your outs and will win you the hand, leaving 37 cards which won't. The ratio of 'bad' cards to 'good' cards in this scenario is 37 to 9, or very close to 4 to 1. This means the probability of hitting your winning card is around 20%.
So, should you call the bet? This is where 'pot odds' comes into play – the ratio of chips in the pot to the chips you need to put in to call. If this ratio is higher than the 'bad' to 'good' cards ratio, above, then you should call. If it's lower, you should fold.
Let's use an example to illustrate this point more clearly.
With 4 clubs in your hand and 9 outs which will win you the pot, imagine your opponent bets 100 chips into a pot already containing 100 chips. The ratio of the pot (200 chips) to the amount you have to put in (100 chips) is only 2 to 1 – lower than the 4 to 1 chance you have of hitting your out and winning the pot. That's a clear fold.
Now, imagine the same scenario, but this time the pot contains 4,900 chips and your opponent bets 100 chips. The ratio of the pot (5,000) to the amount you have to put in (100 chips) is now 50 to 1 – much higher than the 4 to 1 chance you have of winning. That's a clear call!
In doing this you make sure that, while you are still taking a risk, you are being rewarded disproportionately when it pays off.