Sit'N'Go tournaments are ideal for those players who like tournament poker but simply don't have the time to play for hours in a multi-table tournament. Traditionally single-table tournaments of nine, six or two players (although other variations are available), Sit'N'Go tournaments at Replay Poker are free and available in regular or fast-paced Turbo formats.
Players of all levels enjoy Sit'N'Go poker, and before long you'll be gaining experience and being rewarded with Achievement Badges as you climb skill levels and increase your bankroll.
You can access free poker games by logging in to Replay Poker and clicking on the Lobby. You'll find the Sit'N'Go tab at the top of the screen, and from there you can use the drop-down menus to select the Hold'em variant you'd like to play, the betting format and the buy-in level. Games soon fill up, so you won't have to wait a moment to get straight into the action.
Free Sit'N'Go games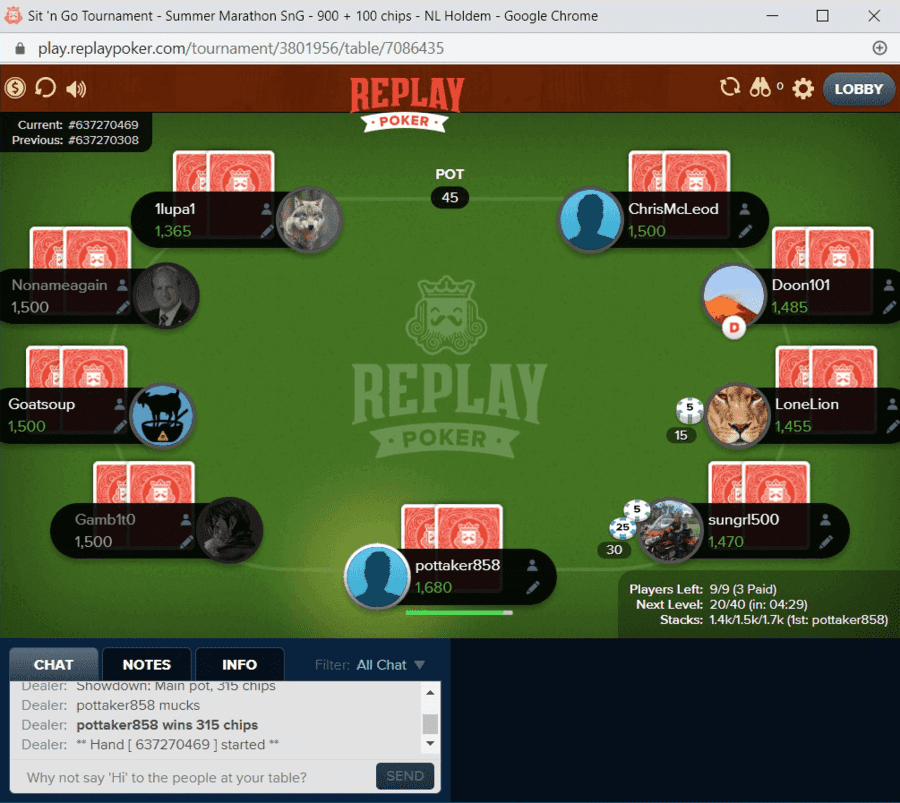 There's a huge range of Sit'N'Go tournaments at Replay Poker, including games of Texas Hold'em, Omaha, Omaha Hi/Lo and Royal Hold'em. If you've not tried Royal Hold'em before, check it out – there are only 20 cards in the deck, all the tens, jacks, queens, kings and aces!
As with all our ring games and multi-table tournaments, Sit'N'Go games are free at Replay Poker and run around the clock, meaning you'll quickly find a game for you, no matter what your skill level or bankroll is. Because it costs you nothing to play, you can easily learn the game of poker in a comfortable environment without risking a cent.
Most Sit'N'Go games are single table tournaments which begin when all the seats are filled. But if you search through the lobby, you'll see a small number of Texas Hold'em tournaments covering two or three-table formats.
Sit'N'Go Poker Strategy
Sit'N'Go games don't last as long as other tournaments, so even if you get off to a bad start at a single table tournament, you can still recover to make it to the prize positions (if there are nine players, usually the top three get rewarded).
However, it's generally accepted that you should play a little tighter in the early stages and let others flex their muscles and risk their chips. As the blind levels increase, which they will do much faster in a turbo format, then you should start to widen your range and open the betting more.
As players get knocked out, it won't be long before you reach the bubble – the last place before everyone is guaranteed a prize. The tendency for many players will be to shut down at this point and play more conservatively because they don't want to be eliminated and win nothing. This is your opportunity! Apply pressure on these weaker players by betting more; then you should be able to pick up lots of small pots and accumulate chips for the battle ahead for the top spot.
If you're lucky enough to reach the final three, then don't be afraid to push all-in if you have ten big blinds or less. Limping or calling will put you under pressure and you could start bleeding chips, so it's best to be the aggressor if you have any sort of decent hand at this stage.
Of course, once you've tried a few Sit'N'Go tournaments, you'll start to get a grasp of how they tend to play out, and fine-tune your strategies accordingly.
Leagues and Promotions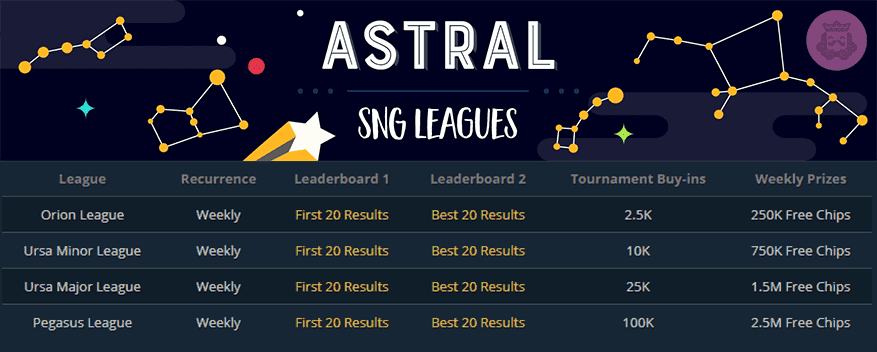 Every Replay Poker player has the opportunity to take part in our weekly Leagues. Best of all, you don't need to grind out lots of games to feature towards the top. There are low, medium and high-stake NL Texas Hold'em leagues in our weekly Sit'N'Go Astral League competitions. All games are Turbo format, so you won't need to play for long, and feature six or nine-seater formats. If that's not enough, the League results also feed into the main annual and monthly Leaderboard standings. There's a healthy dose of free bonus chips on offer for the best finishers.
Check out all our ever-changing and exciting promotions, because these can offer players even more chances to practice their Sit'N'Go skills for free while building their bankrolls.
Sit'N'Go Poker Community
Replay Poker is proud of our poker community. We have thriving Forums where players hang out for poker-related discussions, including hand reviews and strategies. We also have an informative poker blog and an active following across our social media channels, including Replay Poker Facebook, where followers can enjoy extra promotions.
Sign up for Replay Poker today. It's free to do so, and you'll get a free bundle of chips to get you started. Your poker is free to play, and no download is required – simply enjoy your favourite poker games from your browser.